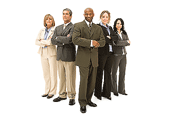 Are you searching for just the available candidates or are you searching for the BEST available candidates for your executive, management and salaried staff positions?
Do you believe that external recruitment and fee for hire search firms are too expensive?
Do you feel that the job/career.com's, candidate "data bank" firms, social/business networking and your company's career web site are inadequate to meet your company's most important and expedient needs?
A few reasons to utilize our low hourly fee/no fee for hire passive candidate generation model are:
The Great Recession is over. The United States is experiencing below 5 % unemployment and for many vertical markets, full employment is being realized.
The availability of highly qualified candidates who are unemployed and want to work are shrinking and becoming non-existent.
To compound the difficulty of recruiting highly sought after college degree candidates, only 33.5 % of Americans have a 4 year degree according to the National Center for Education Statistics.
Reactive recruitment strategies such as ZipRecruiter.com, CareerBuilder, website postings, social networking, current employee and LinkedIn networking only address 5% to 10 % of the qualified population.
Our low cost passive recruitment model

proactively

addresses the 90% to 95% of the qualified population within a targeted vertical market and geographic region who are currently employed and unaware of your company and position openings.
Since we are strictly an hourly fee, no-fee-for-hire candidate generation firm, we save our clients 53% to 76% of their external recruitment budget compared to fee-for-hire search firms. Please review Cost Chart
We position our clients to maximize ROI on a limited budget.
We have a long successful history of providing diversity recruitment
Our firm was established in 1990. We serve the Fortune 500 and over 5000 smaller publicly and privately held companies and many institutional /government organizations.
Our expertise is search/research for all levels of salaried positions in all marketplaces; from executive recruitment to all areas of management and staff positions.
We are an A+ rated company by the Better Business Bureau. Also, please review our client Testimonials
For additional reasons to consider our services and resources please review Why Use Our Services.
Please review our web site and discover our resources, processes, capabilities and how we will be a positive asset to your recruitment strategy. We would be honored to hear from you.
Sincerely,
Bob O'Donnell
Principal