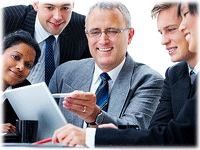 Your company saves recruitment dollars compared to placing recruitment advertisement/postings or utilizing traditional "fee-for-hire" recruitment firms (please review Cost Chart).
O'Donnell Staffing Research has the full capability to address 100% of the currently employed qualified talent pool (passive candidates) and we are a proven inexpensive and productive way for employers to fully "market" their company and job postings.
Your company's cost per hire will be significantly reduced since our hourly staffing research fees are based only on the amount of time required to produce qualified candidates.
You will have minimal paperwork, with no unqualified résumés for your staff to screen.
The exact type of information we supply to our national recruitment firm clients, we supply to you directly, eliminating the cost of a recruitment firm "middle person".
Upon your request, we can ask every individual in the passive recruiting pool we generate for your assignment (which includes all individuals not interested in your opportunity) your specified additional questions. For example, such questions as their perception of your company's culture, how their department or company is organized; perform compensation analysis, and attain opinions of your firm's opportunity, etc.
Your company's confidentiality is secure upon your request.